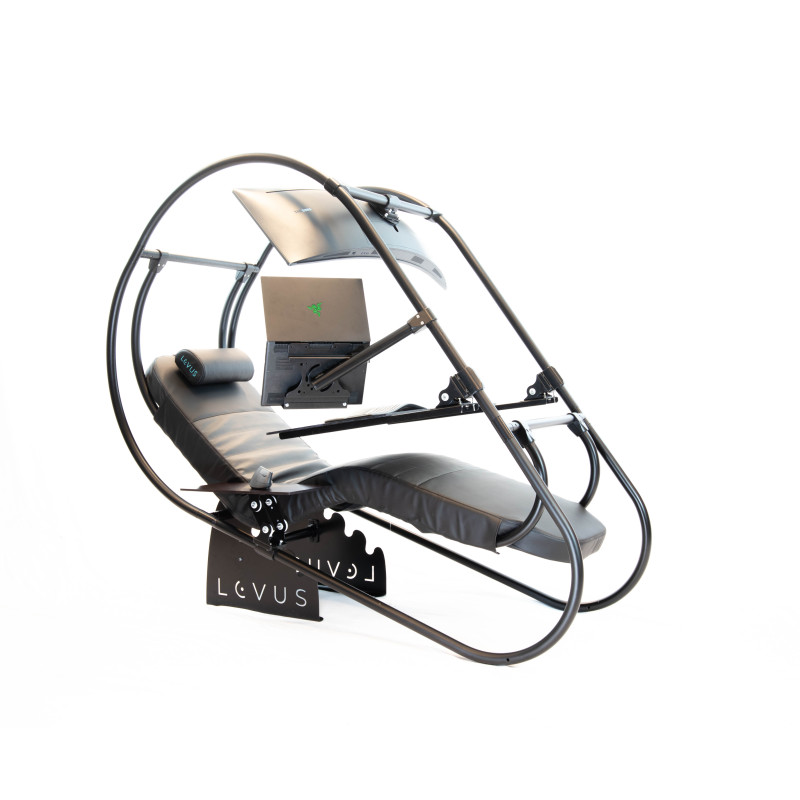  
LEVUS NARROW ULTIMATE
Levus Narrow was designed for those of you, who beyond comfortable work appreciate comfort at gaming, specifically with flight simulators. Narrow Mattress (60cm wide) allows your elbows to "sink in" below the seat surface when operating flight control sticks which can be mounted on both sides of the workstation. Your fligh-sticks or thrust controllers are fixed to dedicated mounting pads at height of your choice, creating ultimate comfort during prolonged gaming sessions. The set-up was co-designed and approved by one of our fellow Star Citizen fans.
Thanks to its narrow structure, this set-up fits better in tight spaces. Other than that - all other parts and components are just the same as in the regular version, meaning you get ultimate comfort in all key areas!
Your Back: Levus open hip-spine angle (120 degrees) and reclined working position are reducing vertical spine pressure. Your bodyweight is "pushing" evenly into the seat along the entire seat surface and not just where your butt is.
Your Eyes: mount your screen(s) on the crossbar (80cm away) For those of you who prefer to have the screen closer to your eyes - we're putting a variable screen distance add-on into the pack. With this extension you can position the screen anywhere between your nose and the core frame.
Your Arms: set the keyboard table and a compact side-table at height & angle which are optimal for your body. 
Unsure about technical details - schedule a personal video call to discuss your setup.
CORE FRAME: modular aluminium pipe segments, Ø40mm with connectors and base foot with 4 work mode angles
LOUNGE SEAT: hand-crafted custom design with hard foam core and heavy duty faux-leather material. Wooden suspension slats with adjustable lumbar support. Seat length: 214cm, Width: 60cm.
HEADREST: hard foam core and durable faux-leather material. adjustable height position

COMPACT MOUSE TABLE: mountable on either side (left/right handed). adjustable height & angle. Can be mounted next to the fligh-controller pads.
LAPTOP HOLDER: keep your desk clutter free by placing your laptop next to the screens
KEYBOARD TABLE: 75cm x 50cm table surface with a cutaway to fit comfortably around your body. Flip-up to easily get in and out of the workstation. Sturdy mount structure to eliminate shake during typing
2 x FLIGHT STICK BASE PAD: Flight Stick Mounting Pads
2 x STANDARD MONITOR MOUNT: moves along and around the crossbar - suitable to mount a single monitor on a VESA plate with 100x100mm hole pattern
1 x CROSSBAR for monitor mount
VARIABLE SCREEN DISTANCE ADD-ON: if you wish to bring your screen closer to your eyes, or mount one screen on top of another one.
Regular Screens
One curved 49"+ screen in horizontal mode
Two curved 49"+ screens, mounted vertically or horisontally on a Variable Screen Distance Mount
DIMENSIONS:
WIDTH: 105cm - 3.44 ft

LENGTH: 210cm - 6.9ft
Check out our EXTENSIONS (e.g. extra crossbar or additional monitor holders) if you have special monitor requirements.
If unsure about functionality or monitor compatibility - feel free to schedule a video call or contact sales support directly: info@levus.co