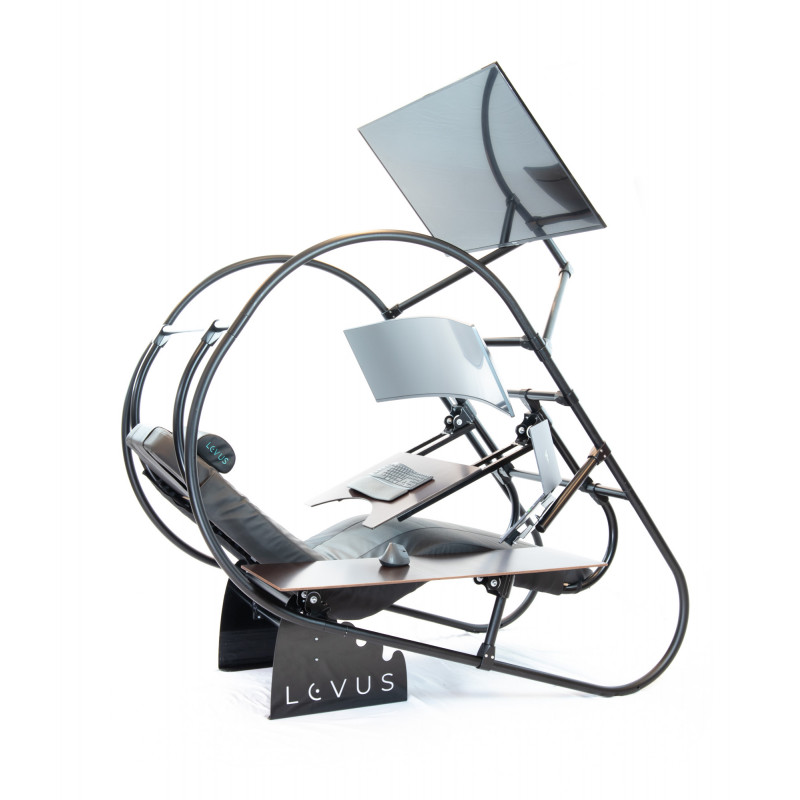  
LEVUS ULTIMATE
Ultimate ergonomics for your BACK, EYES and ARMS - here's how it works:
Your Back: Levus open hip-spine angle (120 degrees) and reclined working position are reducing vertical spine pressure. Your bodyweight is "pushing" evenly into the seat along the entire seat surface and not just where your butt is.
Your Eyes: mount one screen on the crossbar (80cm away) from your eyes and your second screen on a distance extender at 130cm away - keep switching your focus between those screens during work. Your eyes / iris will be flexing during work - that will prevent excessive eye strain which happens from prolonged focus on one screen distance only.
For those of you who prefer to have the screen closer to your eyes - we're putting a variable screen distance add-on into the pack. With this extension you can position the screen anywhere between your nose and the core frame.
Your Arms: set the keyboard table and the spacious side-table at height & angle which are optimal for your body. Use our custom-made hardfoam handrest for enhanced typing comfort.
Dedicated laptop holder keeps your side table laptop-free - plenty of space for your phone, papers, tea, coffee & co. 
With the ULTIMATE-Set you're free to experiment with different screen mounts until you find your optimal working position.
If unsure about technical details, feel free to schedule a personal video call to discuss your setup.
CORE FRAME: modular aluminium pipe segments, Ø40mm with connectors and base foot with 4 work mode angles
LOUNGE SEAT: hand-crafted custom design with hard foam core and heavy duty faux-leather material. Wooden suspension slats with adjustable lumbar support. Seat length: 214cm, Width: 80cm.
HEADREST: hard foam core and durable faux-leather material. adjustable height position
HANDREST: hard foam triangular-shaped cushion for ultimate elbow & forearm support
LARGE SIDE/MOUSE TABLE: mountable on either side (left/right handed). adjustable height & angle
LAPTOP HOLDER: keep your desk clutter free by placing your laptop next to the screens
KEYBOARD TABLE: 75cm x 50cm table surface with a cutaway to fit comfortably around your body. Flip-up to easily get in and out of the workstation. Sturdy mount structure to eliminate shake during typing
2 x STANDARD MONITOR MOUNT: moves along and around the crossbar - suitable to mount a single monitor on a VESA plate with 100x100mm hole pattern
1 x CROSSBAR for monitor mount
1 x VESA PLATE for large monitors with hole patterns (in mm): 100x100, 200x100, 200x200
SCREEN DISTANCE EXTENDER: pipe-mount system to bring out your XXL screen beyond the core structure
VARIABLE SCREEN DISTANCE ADD-ON: if you wish to bring your screen closer to your eyes
55"+ screen (central mount on a distance extender)
One curved 49"+ screen in horizontal mode
Two curved 49"+ screens, mounted vertically
Regular screens with up to 104cm / 41" horizontal width
Regular screens which are wider than 104cm / 41" can be mounted vertically, as long as their vertical length is not greater than 104cm / 41"
DIMENSIONS:
WIDTH: 125cm - 4.1ft

LENGTH: 210cm - 6.9ft
Check out our EXTENSIONS (e.g. extra crossbar or additional monitor holders) if you have special monitor requirements.
If unsure about functionality or monitor compatibility - feel free to schedule a video call or contact sales support directly: info@levus.co